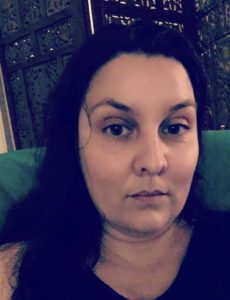 Hello, I'm Désirée. I have been writing short fiction since I got in trouble at seven using up my father's typewriter ribbons while trying to write my own fairy tales.  I battled ancient keys to write a time travel story for children and nearly broke the typewriter at nine. At thirteen, I had a selectric that didn't break no matter what, and the two lines of saved text was a massive luxury. Now, I can close a document on one machine, and open it on another. I can move whole scenes about, and all the tools I could possibly use are right there for me. What luxury.
I presently live in a beach town with my handsome beau, my almost-adult twin daughters, our two cats and a fluffball that is technically my sister's dog. Every time I get two seconds to rub together, I can be found writing at a window overlooking the view. I am a shameless brainiac dictionary know-it-all, and have given up trying to cure myself of it. I try to write for the average vocabulary as often as possible. I travel, play classical piano, sing folk songs while doing my chores, and am a polyglot – due to all the traveling.
I can either be found writing or reading someone else's work far too late into the night.
Every story I write contains inspiration from real life, a whole lot of made-up stuff, and a little magic, although sometimes the lines blur where each comes from. I try not to take you to a dark place without showing you how to get out of it. I don't promise you'll grok everything I write. Sometimes it needed to be written more than I needed to know why.
Published numerous times in the Ink Slingers Guild Anthology, a stand-alone novel is due in 2017. (GULP.) You can find several of my works available on Amazon, or here on this site shortly.
---
My background image is an upside down, slender homage to "Rippled Surface" by M.C Escher, which is my very favorite piece by him. I recommend you buy a print of the original.